Our Philosophy
BrainTrust takes care of clients and employees alike. We are a friendly team that is passionate about providing exceptional services in the Central and North Okanagan, from Enderby to Peachland. 
We strive to foster a welcoming team environment and provide staff with opportunities for professional growth and advancement.
BrainTrust employees are compassionate, skilled professionals.  We work in a culture that welcomes diversity, and honour the strengths of each team member.
Check out our volunteer opportunities below.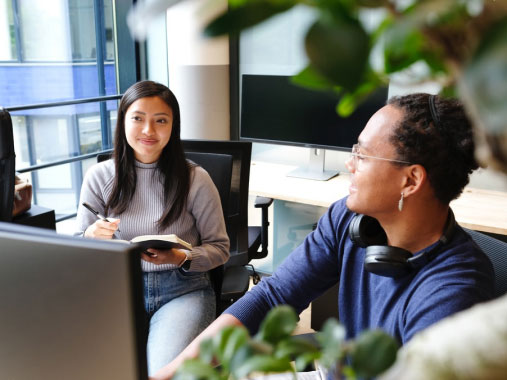 Volunteer Postings
Community Education & Prevention Volunteer
Help us build a community response to brain injury!
Our mission is to bring the issue of brain injury to the forefront and reduce preventable brain injuries. With your help, we can educate our community on brain injury and reduce stigma.
About Us
BrainTrust Canada is a progressive, community-based support, and rehabilitation agency that provides leadership, innovation, and service excellence to individuals and families impacted by acquired brain injury. Our mission is to bring the issue of brain injury to the forefront, reduce preventable brain injuries, and maximize the potential of those who have been affected by brain injury through programs and advocacy.
Key Responsibilities
BrainTrusts attends a variety of community events (e.g., sports games, concerts, bike safety events) to share information about BrainTrust services and brain injury education & prevention. The volunteer will assist a staff member at events, including: setting up & taking down the community booth, greeting attendees, checking eligibility criteria for the Helmet Safety program, distributing and fitting bike helmets for children & youth, and guiding attendees through interactive activities (e.g., concussion goggles).
Location
In-person. Must have reliable transportation to attend community events.
Commitment
Volunteers must be able to attend at least 1 community event per month. Dates will vary based on event booking and may occur on evenings or weekends. Volunteers will be contacted when community events are scheduled and can confirm their availability to attend.
To apply, please send your application to Lydia Wood, Communications Coordinator at [email protected]
Apply Today
BrainTrust is an equal opportunity employer and recognizes that our ability to provide the best service within our community relies on a diverse set of knowledge, skills and experiences.
While we appreciate all qualified applications, please note that only those selected for an interview will be contacted.
"*" indicates required fields