Paul Mitchell, Pushor Mitchell LLP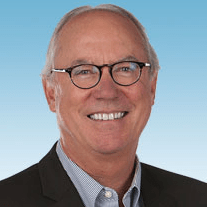 Keeping Families Together
Early in his law career, Paul Mitchell began seeing an increasing number of brain injury files and discovered that services for those with brain injury were limited. In 1986, he and other stakeholders formed a Society seeking greater support for those affected by brain injury.
Paul sat on the Board for over 25 years and continues to sponsor what is now BrainTrust Canada. He is quick to credit others whose long-term dedication to finding funding and bringing about services put brain injury on the radar in Kelowna.  Among others he describes the significant contributions of Doug Rankmore, the first executive director, and Lynne Holmes, his paralegal at Pushor Mitchell.
Paul continues to work with those impacted by brain injury, saying that "the most enjoyable part is trying to keep that family unit together." Only 1 in 15 marriages survives a brain injury. He cites financial pressures and the stress of coping with the personality and behavioural changes of the person with brain injury as two factors that can break families apart.
Over the years he's referred many clients to BrainTrust and has taken great pleasure in seeing the difference this support makes in their lives.
Paul's law firm has also sponsored the Pushor Mitchell Okanagan Symposium on Brain Injury for over 25 years. He has seen many families go to the symposium in distress, and at the end of it leave with feelings of validation, belonging, and hope.
Paul notes that this event also addresses funding and prevention - key issues that he believes will continue to drive change in the field of brain injury.
"To me, one of the best things that BrainTrust has ever done is getting that conference going and that's why we support it."