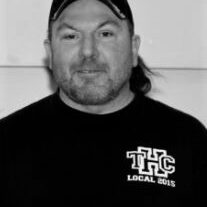 Four-year-old Mark Bertolutti simply answered the call of a friend to come and play. He ran across the street and was hit by a car. That day he sustained a brain injury that altered the course of his life.
Now 46, Mark matter-of-factly explains that he's never really known life without brain injury.  It hasn't been an easy one.
He was laughed at as a child and struggled with learning to read. This was made worse by his worrying about remembering what he had read. He has never read a book, and can't always respond quickly in conversation.
Yet he is very aware of the subtle and sometimes unintended judgments that lie beneath the words of those without brain injury.
"I wish people could treat each other for who they are, and not who they think they are. We all have situations in our lives where things have happened. It might not be an injury, but we should all understand each other."
His greatest ongoing difficulty has been connecting with others. "I'm a pretty lonely guy," Mark says candidly.
Though not a reader, Mark is a poet. He enjoys the permission this genre gives him to share deep thoughts in a condensed fashion. A BrainTrust facilitator noticed Mark's passion for sharing his poetry during a peer support group. She suggested he connect with Inspired Word Cafe (IWC), a local coffeehouse show for poets and musicians.
At IWC Mark has found a form of connection through self-expression. It's his goal in life to help others, and he loves the idea that his words could reach and inspire someone he may never even meet.
The opportunity has been a life-changing experience. Mark says, "I'm living my dream because of BrainTrust."